Affiche Originale Poster Ferrari 308 Gtb Pioneer Andruet Biche Tour France Auto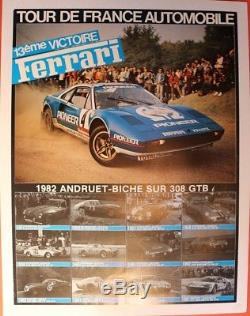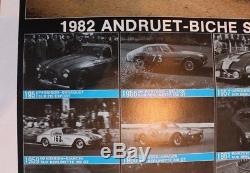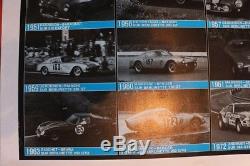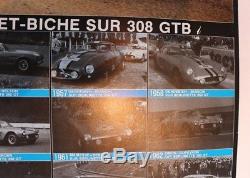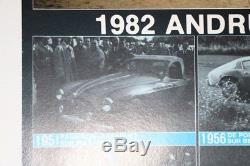 PAS DE COPIE CHEZ NOUS NO COPY we sell only original period posters. ON LINEN , LINEN BACKED IN OUR OWN STUDIO. Envoi en rouleau sécurisé assuré pour la valeur. We send in secured roll insured for the value. Pour la sauvegarde de vos affiches.
(exemples photos de notre travail et devis sur demande). Jean-Claude Andruet , dit La Panique , né le. Français, qui a remporté deux fois le titre de champion de France dans cette discipline. Très éclectique, il a également participé à de nombreuses épreuves sur circuits, ou en courses de côte. Il est le père de l'ancien champion de France d'échecs Gilles Andruet. Après avoir été champion de France junior de judo.
Il débuta en rallye en 1965, à la "Côte Fleurie". Dans la foulée il remporta deux victoires à la première Coupe Gordini. En 1966 (à Reims et à Clermont-Ferrand).
Quelque vingt ans plus tard, il totalise une soixantaine de victoires, pour un ratio de 17,5 % de réussite (entre rallyes, et courses de côtes). Couronné à la fois champion d'Europe et champion de France des rallyes 1970.
Il fut aussi sacré champion de France en 1968. En 1972, il remporte 10 des 11 courses françaises auxquelles il participe.
Parmi ses multiples succès, Jean-Claude remporte notamment la toute première épreuve organisée en WRC. Le réputé Rallye Monte-Carlo 1973. Associé ainsi à l'épopée des Alpine Renault Musketeers que furent aussi Jean-Luc Thérier. Pour remporter le titre constructeur du championnat du monde des rallyes 1973. Tout en ayant quitté Alpine pour Lancia.
Après sa victoire au Monte-Carlo. Il triompha également au Tour de Corse. Où il l'emporta à trois reprises : deux fois au volant de la berlinette Alpine en 1968.
, puis une troisième en 1974. Il s'est aussi fait remarquer en rallye sur Ferrari, notamment trois fois vainqueur du Tour de France automobile. Et vainqueur du dixième Rallye de Sicile en 1981. Également sur Ferrari 308 GTB.
De 1967 à 1989, il participa aussi régulièrement aux 24 Heures du Mans. Pilotant divers types de bolides (Alpine, Ferrari, Rondeau, Spice), avec pour meilleur résultat deux. Places, en 1972 et 1981. Vainqueur de l'indice énergétique en 1968 avec Jean-Pierre Nicolas sur une Alpine A 210 moteur de. Vainqueur en GTS en 1972 sur une Ferrari 365 GTB/4 Daytona avec Claude Ballot-Lena à.
Vainqueur du groupe IMSA en 1981 sur Ferrari 512 BB LM avec Claude Ballot-Lena à. Vainqueur du groupe C2 en 1989 sur Courage C 20 LM avec l'équipage Shungi Kasuya et Philippe Fargeon à. Début octobre 2007, alors qu'il n'avait plus piloté en rallye depuis douze ans, Jean-Claude retrouve la compétition à l'occasion de course de véhicules historiques. Il a notamment gagné le Tour de Corse Historique au volant d'une Porsche 911. (copilote Guy Mizael), et fut vainqueur de la Coupe de France des rallyes VHC (Véhicule Historique de Compétition) 2008, dans sa catégorie (selon l'âge de la voiture), avec la Porsche 911 RSR de lécurie "TCM-Feralu" de Philippe Peauger, et il remporte la Finale de la Coupe de France des rallyes VHC à 2 reprises : en 2010 et en 2012 (avec sa copilote légendaire "Biche" à ses côtés). Il a eu un fils, Gilles Andruet. Qui fut champion de France.
En 1987, avant d'être retrouvé assassiné en 1995 près de Sainte-Geneviève-des-Bois. Il a par ailleurs deux autres filles et un petit-fils. Il est constructeur de voiturettes utilitaires et de deux roues électriques sur mesure, sous la marque société JC Andruet SA. Ferrari 308 GTB et GTS.
V8, 16 soupapes, 4 carburateurs double corps. 5 vitesse + marche arrière. 0 à 100 km/h en 6,7 s. 25,3 (conduite sportive) L/100 km.
1 460 mm / 1 460 mm. La Ferrari 308 (GTB ou GTS) est un coupé 2 places du constructeur automobile.
Les premières versions à 4 carburateurs Webber 40DCNF et à coque en polyester. , construites à 808 exemplaires firent place aux modèles à caisse en acier 1977. , d'abord gardant les carburateurs, on y ajoute des convertisseurs catalytique en 1978 pour les modèles américains puis passant à l'injection en 1980 (308 GTBi/GTSi, 214 ch) et à quatre soupapes par cylindre en 1982 (308 GTB QV/GTS QV, 240 ch) ces derniers sont moins côtés aujourd'hui. Le modèle bénéficie d'une évolution sous l'appellation 328. Ferrari 308 GTS du pilote Ferrari Gilles Villeneuve.
Ce modèle est représentatif des GT à moteur V8 (berlinette), l'« entrée de gamme » de Ferrari ; il se base sur l'architecture de la Dino. Et donnera naissance à une lignée de sportives très nerveuses : 348. Déclinées par la suite en version Challenge ou Scuderia (version dite « light », c'est-à-dire plus légère et plus puissante que la version de série).
L'appellatif 308 GTB renseigne. La cylindrée totale : 3 000 cm. En réalité elle en fait 2 926 cm. Le type de moteur : 8 cylindres en V implanté transversalement en position centrale arrière et délivrant une puissance de 255 ch (version avec carburateurs).
Pour le millésime 1980 (GTBi et GTSi), l'injection diminuera fortement la puissance puisqu'il ne restera qu'environ 214 ch pour propulser la voiture. Les culasses comporteront quatre soupapes par cylindre pour procurer ainsi 240 ch. Le principal signe distinctif de cette version QV (quattro valvole) sera l'ajout de longues portées et du Cavallino Rampante dans la grille de calandre.
Le type de carrosserie : berlinetta désignant un coupé en opposition à spyder. Désignant une version « targa » cette appellation étant réservée par Porsche. C'est-à-dire avec un toit escamotable. Réplique de Ferrari 308 GTB Group 4 Michelotto, Musée de l'automobile de Monaco.
Ferrari 308 GTS, Circuit de Dijon-Prenois. La carrosserie des 308 GTB (coupé) et GTS (spyder) est élaborée par le designer. Et celle des 308 GT4. Au milieu des années 1970.
However, the company's inception as an. Is usually recognized in 1947, when the first Ferrari-badged car was completed. Italy (as Auto Avio Costruzioni).
In 2014, Ferrari was rated the world's most powerful brand by Brand Finance. In May 2012 the 1962 Ferrari 250 GTO. To American communications magnate Craig McCaw. Acquired 50% of Ferrari in 1969 and expanded its stake to 90% in 1988.
In October 2014 Fiat Chrysler Automobiles. Announced its intentions to separate Ferrari S. From FCA; as of the announcement FCA owned 90% of Ferrari.
The separation began in October 2015 with a restructuring that established Ferrari N. (a company incorporated in the Netherlands) as the new holding company of the Ferrari group and the subsequent sale by FCA of 10% of the shares in an IPO.
And concurrent listing of common shares. Through the remaining steps of the separation, FCA's interest in Ferrari's business was distributed to shareholders of FCA, with 10% continuing to be owned by Piero Ferrari. The spin-off was completed on 3 January 2016. Throughout its history, the company has been noted for its continued participation in racing.
Where it is the most successful racing team. Holding the most constructors championships (16) and having produced the highest number of winning drivers (15). Ferrari road cars are generally seen as a symbol of speed, luxury and wealth.
Enzo Ferrari was not initially interested in the idea of producing road cars when he formed Scuderia Ferrari. In 1929, with headquarters in Modena.
Literally means "Ferrari Stable" and is usually used to mean Team Ferrari. Ferrari bought, prepared, and fielded Alfa Romeo. Racing cars for gentleman drivers.
Functioning as the racing division of Alfa Romeo. In 1933, Alfa Romeo withdrew its in-house racing team and Scuderia Ferrari took over as its works team.
The Scuderia received Alfa's Grand Prix cars of the latest specifications and fielded many famous drivers such as Tazio Nuvolari. In 1938, Alfa Romeo brought its racing operation again in-house, forming Alfa Corse. And hired Enzo Ferrari as manager of the new racing department; therefore the Scuderia Ferrari was disbanded. In September 1939, Ferrari left Alfa Romeo under the provision he would not use the Ferrari name in association with races or racing cars for at least four years. A few days later he founded Auto Avio Costruzioni. Headquartered in the facilities of the old Scuderia Ferrari. The new company ostensibly produced machine tools and aircraft accessories.
In 1940, Ferrari produced a race car the Tipo 815. Based on a Fiat platform. It was the first Ferrari car and debuted at the 1940 Mille Miglia. But due to World War II.
In 1943, the Ferrari factory moved to Maranello. Where it has remained ever since. The factory was bombed by the Allies.
And subsequently rebuilt including a works for road car production. In 1960 the company was restructured as a public corporation under the name SEFAC S. (Società Esercizio Fabbriche Automobili e Corse). Name was resurrected to denote the factory racing cars and distinguish them from those fielded by customer teams. The first Ferrari-badged car was the 1947 125 S. Powered by a 1.5 L V12 engine. Early in 1969, Fiat took a 50% stake in Ferrari. An immediate result was an increase in available investment funds, and work started at once on a factory extension intended to transfer production from Fiat's Turin plant of the Ferrari engined Fiat Dino.
New model investment further up in the Ferrari range also received a boost. In 1988, Enzo Ferrari oversaw the launch of the Ferrari F40. The last new Ferrari to be launched before his death later that year, and arguably one of the most famous supercars. In 1989 the company was renamed as Ferrari S.
From 2002 to 2004, Ferrari produced the Enzo. Their fastest model at the time, which was introduced and named in honor of the company's founder, Enzo Ferrari. It was to be called the F60, continuing on from the F40 and F50, but Ferrari was so pleased with it, they called it the Enzo instead. Ferrari's former CEO and Chairman, Luca di Montezemolo. Resigned from the company after 23 years, who was succeeded by Amedeo Felisa and finally on 3 May 2016 Amedeo resigned and was succeeded by Sergio Marchionne.
CEO and Chairman of Fiat Chrysler Automobiles. On 29 October 2014, the FCA group. Resulting from the merger between manufacturers Fiat and Chrysler, announced the split of its luxury brand, Ferrari. Since the company's beginnings, Ferrari has been involved in motorsport, competing in a range of categories including Formula One. Sporting division as well as supplying cars and engines to other teams and for one make race series.
Was the first racing car to be designed by Enzo Ferrari, although it was not badged as a Ferrari model. Scuderia Ferrari has participated in several classes of motorsport, though it is currently only officially involved in Formula One.
It is the only team to have competed in the Formula One World Championship continuously since its inception in 1950. Gave the team its first F1 victory at the 1951 British Grand Prix. Gave Ferrari its first Drivers Championship. Ferrari is the oldest team in the championship, and the most successful: the team holds nearly every Formula One record. The team's records include 15 World Drivers Championship titles 1952. 16 World Constructors Championship titles 1961. , 221 Grand Prix victories, 6736.27 points, 679 podium finishes, 207 pole positions. And 230 fastest laps in 890 Grands Prix contested. Of the 19 tracks used in 2014.
8 have lap records set by the Ferrari F2004. With a further 3 set by the Ferrari F2003-GA.
Ferrari drivers include: Tazio Nuvolari. At the end of the 2006 season, the team courted controversy by continuing to allow Marlboro. To sponsor them after they, along with the other F1 teams, made a promise to end sponsorship. A five-year deal was agreed and although this was not due to end until 2011, in April 2008 Marlboro dropped their on-car branding on Ferrari. To Ferrari's first win in. 24 Hours of Le Mans.
Ferrari went on to dominate the early years of the. Winning the title seven out of its first nine years. In addition to Formula One, Ferrari also entered cars in sportscar racing, the two programs existing in parallel for many years.
When the championship format changed in 1962. Ferrari earned titles in at least one class each year through to 1965. And then again in 1967. Ferrari would win one final title, the 1972 World Championship of Makes. Before Enzo decided to leave sports car racing after 1973 and allow Scuderia Ferrari to concentrate solely on Formula One.
During Ferrari's seasons of the World Sportscars Championship, they also gained more wins at the 24 Hours of Le Mans. With the factory team earning their first in 1954.
Another win would come in 1958. Followed by five consecutive wins from 1960. Luigi Chinetti's North American Racing Team. (NART) would take Ferrari's final victory at Le Mans in 1965.
Although Scuderia Ferrari no longer participated in sports cars after 1973, they have occasionally built various successful sports cars for privateers. These include the BB 512 LM.
In the 1970s, the 333 SP. Which won the IMSA GT Championship. In the 1990s, and currently the 458. GT2 and GT3 which are currently winning championships in their respective classes. Race cars for other teams.
Throughout its history, Ferrari has supplied racing cars to other entrants, aside from its own works Scuderia Ferrari. In the 1950s and'60s, Ferrari supplied Formula One cars to a number of private entrants and other teams. One famous example was Tony Vandervell. S team, which raced the Thinwall Special. Modified Ferraris before building their own Vanwall. The North American Racing Team. S entries in the final three rounds of the 1969 season were the last occasions on which a team other than Scuderia Ferrari entered a World Championship Grand Prix with a Ferrari car. Ferrari supplied cars complete with V8 engines for the A1 Grand Prix. Series, from the 2008-09 season.
The car was designed by Rory Byrne and is styled to resemble the 2004 Ferrari Formula one car. Ferrari currently runs a customer GT program for a racing version of its 458. Model, and has done so for the 458's predecessors, dating back to the 355 in the late 1990s. Such private teams as the American Risi Competizione.
Teams have been very successful with Ferrari GT racers over the years. This car, made for endurance sportscar racing to be competed against such racing versions of the Audi R8. Has proven to be successful, but not as successful as its predecessor, the F430. Is a one make racing series for the Ferrari 458. Is not road legal, and is therefore only used for track events. Ferrari's first vehicle was the 125 S. In 1949, the Ferrari 166 Inter.
The presentation of this car marked the company's first move into the grand touring market, which continues to make up the bulk of Ferrari sales to the present day. Several early cars featured bodywork customised by a number of coachbuilders. The Dino was the first mid-engined Ferrari. This layout would go on to be used in most Ferraris of the 1980s and 1990s.
V8 Ferrari models make up well over half of the marque's total production. For a time, Ferrari built 2+2 versions of its mid-engined V8 cars. Although they looked quite different from their 2-seat counterparts, both the GT4 and Mondial were closely related to the 308 GTB. The company has also produced front-engined 2+2 cars, culminating in the current California. Ferrari entered the mid-engined 12-cylinder fray with the Berlinetta Boxer in 1973.
The later Testarossa remains one of the most famous Ferraris. The 1984 Ferrari 288 GTO. May be considered the first in the line of Ferrari supercars, which extends to the recent LaFerrari. Ferrari has produced a number of concept cars. Such as the Ferrari Mythos. While some of these were quite radical such as the Ferrari Modulo. And never intended for production, others such as the Ferrari Mythos. Have shown styling elements which were later incorporated into production models.
The most recent concept car to be produced by Ferrari themselves was the 2010 Ferrari Millechili. Special versions of Ferrari road cars have also been produced, commissioned to coachbuilders. Recent examples include the Ferrari P4/5 by Pininfarina. And the Ferrari 612 Kappa.
The Special Projects programme was launched in the late 2000s as Ferrari's ultimate in-house personalization service, enabling customers to own bespoke bodied one-offs based on modern Ferrari road cars. Engineering and design is done by Ferrari, sometimes in cooperation with external design houses like Pininfarina. And the vehicles receive full homologation. The first car to be completed under this programme was the 2008 Ferrari SP1.
Commissioned by a Japanese business executive, the second was the P540 Superfast Aperta. Commissioned by an American collector. The following is a list of Special Projects cars that have been made public. Was displayed at the 2008 Detroit Auto Show. At the 2010 Geneva Motor Show, Ferrari unveiled a hybrid version of their flagship 599.
Called the "HY-KERS Concept", Ferrari's hybrid system adds more than 100 horsepower on top of the 599 Fiorano's 612 HP. Also in mid-2014, the flagship LaFerrari. Until the early 1980s, Ferrari followed a three-number naming scheme based on engine displacement. Models used the total displacement (in decilitres) for the first two digits and the number of cylinders as the third. Was a 2.0 L V6 powered vehicle, while the 348. Used a 3.4 L V8, although, for the F355. The last digit refers to 5 valves per cylinder. Upon introduction of the 360. Modena, the digits for V8 models (which now carried a name as well as a number) refer only to total engine displacement. The numerical indication aspect of this name carried on to the F430. However the F430's replacement, the 458 Italia. Uses the same naming as the 206 and 348. Models used the displacement (in cubic centimetres) of one cylinder. Therefore, the famed 365 Daytona had a 4390 cc V12. However, some newer V12-engined Ferraris, such as the 599. Have three-number designations that refer only to total engine displacement. Models used the displacement in litres for the first digit and the number of cylinders for the next two digits. Therefore, the BB 512 was five litre flat 12 (a Berlinetta Boxer, in this case). However, the original Berlinetta Boxer was the 365 GT4 BB. Which was named in a similar manner to the V12 models. Flagship models (aka "Halo Cars") use the letter F followed by the anniversary in years, such as the F40. Skipped this rule, although the F60 name was applied to a Ferrari Formula One car and is sometimes attached to the Enzo.
Some models, such as the 1980 Mondial. Did not follow a three-number naming scheme. ("Modificata"), placed at the end of a model's number, denotes a modified version of its predecessor and not a complete evolution see. Most Ferraris were also given designations referring to their body style.
In general, the following conventions were used. GTB ("Gran Turismo Berlinetta") models are closed Berlinettas.
GTS ("Gran Turismo Spider") in older models, are open Spiders, or convertibles. ; however, in more recent models, this suffix is used for targa top. Models see Dino 246 GTS. The exception being the 348 TS.
Which is the only targa named differently. The convertible models now use the suffix "Spider". (spelt "i") see F355 Spider. GTO ("Gran Turismo Omologata"), placed at the end of a model's number, denotes a modified version of its predecessor. Indeed, those three letters designate a model which has been designed and improved for racetrack use while still being a street-legal model.
Only three models bear those three letters; the 250 GTO of 1962, the 288 GTO of 1984 and the 599 GTO of 2010. This naming system can be confusing, as some entirely different vehicles used the same engine type and body style.
Many Ferraris also had other names affixed (like Daytona) to identify them further. Many such names are actually not official factory names. The Daytona name commemorates Ferrari's triple success in the February 1967 24 Hours of Daytona. Only in the 1973 Daytona 24 Hours, a 365 GTB/4. Model run by NART (who raced Ferrari's in America) ran second, behind a Porsche 911. In the mid-1990s, Ferrari added the letter "F" to the beginning of all models a practice abandoned after the F512 M. But adopted again with the F430. But not with its successor, the Ferrari 458.
L'item "AFFICHE ORIGINALE POSTER FERRARI 308 GTB PIONEER ANDRUET BICHE TOUR FRANCE AUTO" est en vente depuis le jeudi 30 novembre 2017. Il est dans la catégorie "Collections\Calendriers, tickets, affiches\Affiches pub\ anciennes". Le vendeur est "buybuyzoe" et est localisé à/en Atelier Affiche Moulin port Salomon DAMIATTE. Cet article peut être livré partout dans le monde.
Epoque: Rétro (1900-1979)
Dimensions: 80 x 60 cm
Impression: Couleur
Thème: Sport