AFFICHE SNCF 1947 TRACTEUR semi remorque FAR F. A. R. Camion scammel scarab poster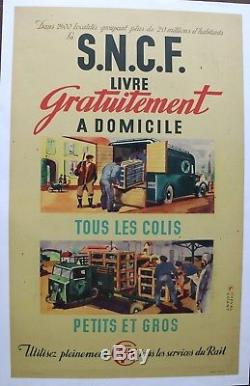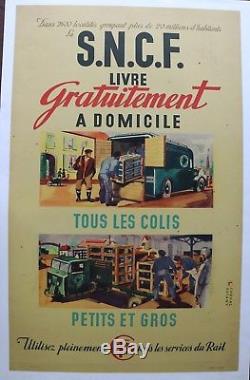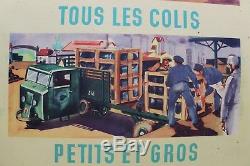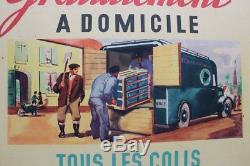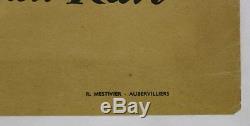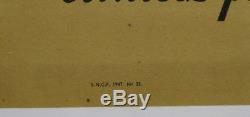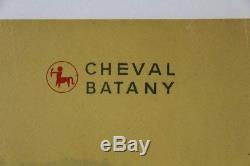 PAS DE COPIE CHEZ NOUS NO COPY we sell only original period posters. ON LINEN , LINEN BACKED IN OUR OWN STUDIO. Envoi en rouleau sécurisé assuré pour la valeur. We send in secured roll insured for the value. IL EST ECRIT SUR L'AFFICHE. Pour la sauvegarde de vos affiches. (exemples photos de notre travail et devis sur demande). Quelques lumières sur les FAR. Le FAR (probablement les initiales des prénoms des concepteurs, F ritz Glassmann, A ndré Lagache et R ené Léonard) a été fabriqué en France, à partir de 1919, par l'entreprise Chenard et Walker et a été produit dans des variantes avec ou sans cabine, différences de charge etc... Nos trois concepteurs ont commencé par acquérir la licence de l'anglais "Scammel" aux véhicules d'une architecture totalement farfelue mais totalement adaptée au travail demandé: ces véhicules avaient le gros avantage d'être extrêmement maniables dans les cours de gare et un attelage de semi-remorque automatique constituait un « Plus » indéniable. De nombreuses marques de moteur s'intéressèrent à ces "3 roues" très particuliers, mais au départ, ce sont un moteur Citroën ou un moteur Walcker qui permettaient aux FAR de se déplacer. Tracteur ou porteur, c'était un véhicule sortant de l'ordinaire. Renault, Alfa diesel, Hispano, Perkins, Chenard, Panhard etc.... L'ont bien compris et y ont installé leurs moteurs.
Des attelages à colonne ou à anneaux, avec des remorques Lagache et Glassmann, permirent à des centaines d'industries d'assurer des livraisons à courte distance en rotations rapides. Il faut se rappeler le contexte d'alors, tout chargement ou déchargement se faisait à la main.
Toutes ces manipulations étaient chronovores et il fallait donc gagner sur le trajet. Cependant, aux dires des connaisseurs, le freinage, du fait de la mono roue avant, était déplorable, la direction plutôt aléatoire sur des pavés gras ou du gravier, et la stabilité à vide, en virage, très particulière.. La famille des FAR comprendra aussi des avatars à quatre roues.. En fait, le style "trois roues" à la Scammel n'était pas une absolue nécessité , le FAR résidait essentiellement dans les deux types d'attelage automatique utilisés, comme celui à anneaux figurant sur cette plaquette-ci.. From Wikipedia, the free encyclopedia.
Particularly specialist and military off-highway vehicles, from 1921 to 1988. Scammell started as a late- Victorian.
Building business, G Scammell & Nephew Ltd in Spitalfields. George Scammell, the founder, was joined by his nephew Richard and Richard's sons Alfred and James. By the early 1900s, the firm had become financially stable, providing maintenance to customers of Foden.
One such customer, Edward Rudd, had imported a Knox Automobile. Tractor from the United States, and impressed with its low weight/high hauling power had asked Scammell if they could make a similar model of their own. However, the outbreak of war in 1914 stopped the project and presented itself as a turning point in road transport history.
Mechanical transport was seen to work, proving its vast potential beyond doubt to forward-thinking companies such as Scammell. George Scammell's great nephew, Lt Col Alfred Scammell, was injured and invalided out of the army, and he was able to apply the practical experience he had gained during the war and began developing the articulated six wheeler. Percy G Hugh, chief designer, conceived the idea and at the 1920 Commercial Motor Show 50 orders were taken for the new design. The vehicle's very low axle weight allowed it to carry 7.5 tonnes (7.4 long tons; 8.3 short tons) payload legally at 12 miles per hour (19 km/h), rather than being limited to 5 mph.
Scammell Scarab and trailer Steam Museum. 1939 Scammell R100 artillery tractor. Scammell started production of the 7.5-ton articulated vehicle in 1920.
Needing to move to new premises, Scammell & Nephew floated a new company, Scammell Lorries Ltd in July 1922, with Col Scammell as Managing Director. The new firm built a new factory at Tolpits Lane, Watford. Next to Watford West railway station. On the branch line from Watford Junction. The original company remained in business in Fashion Street, Spitalfields.
Refurbishing and bodybuilding until taken over in 1965 by York Trailer. In 1929, Scammell designed and manufactured the "100 Tonner" low loader. Only two were produced; the first was delivered to Marston Road Services. Liverpool, for the transportation of steam engines to Liverpool docks.
Scammell were also looking for new markets, and diversified into four- and six-wheel rigid (nonarticulated) designs. The'Rigid Six-wheeler'found some success and, with its balloon tyres, at last permitted sustained high-speed, long-distance road operation. In 1934, Scammell produced the three-wheeled Mechanical Horse.
This featured automatic carriage coupling and the single front wheel could be steered through 360 degrees. The three-tonner was powered by a 1,125-cc side-valve. Engine and the six-tonner by a 2,043-cc engine.
Had introduced a similar vehicle, the Cob, four years earlier. Powered version was made under licence in France, by Chenard-Walcker-FAR.
Known as the Pony Mécanique. This continued in production, in various versions, until 1970.
In the late 1940s, the Mechanical Horse was superseded by the Scammell Scarab. With similar features, but a much less angular cab and now with a 2,090-cc, side-valve petrol engine in both models and a diesel. The company mainly concentrated on articulated and rigid eight-wheeler lorries, from the 1920s. One vehicle not in those lines that became well-known was the 6×4. This was an off-highway, heavy haulage tractor, first produced in 1927.
It showed outstanding cross-country performance due to the design that included the patent beam bogie rear axle. With 2 feet (1 m) of vertical movement for each of the rear wheels.
This design was the work of Oliver Danson North. The Pioneer proved popular in the oil field. Markets, and formed the basis of the British Army. S Second World War R100 30-ton tank transporter. With the outbreak of war, development of new vehicles stopped and production concentrated on military Pioneers for use as artillery.
Tractors, recovery and transporter vehicles. L'item "AFFICHE SNCF 1947 TRACTEUR semi remorque FAR F. Camion scammel scarab poster" est en vente depuis le lundi 2 octobre 2017. Il est dans la catégorie "Collections\Calendriers, tickets, affiches\Affiches pub\ anciennes". Le vendeur est "buybuyzoe" et est localisé à/en Atelier Affiche Moulin port Salomon DAMIATTE.
Cet article peut être livré partout dans le monde.
Epoque: Rétro (1900-1979)
Dimensions: 100 x 63 cm
Impression: Couleur
Thème: Transport